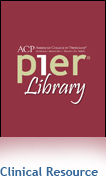 ACP PIER Database - Primary Care Library Group
PIER (Physicians' Information and Education Resource) is designed for rapid point-of-care delivery of up-to-date, evidence-based guidance for clinicians.
Available on: iPhone/iPod touch/iPad, Android, Blackberry, Palm and more...
Publisher(s): American College of Physicians
This latest update, created in partnership with the American College of Physicians, is based on the 2010 print edition with additional features, enhanced functionality and ongoing updates.
Available Modules
* Cardiology
* Pulmonary
* Diabetes
* Hematology & Oncology
Key Features
* Includes more than 150 disease topics, 300 images, 24 algorithms
* Presents a series of succinct guidance statements and practice recommendations
* Links to abstracts and the full text of carefully selected references
Click here
for more information.